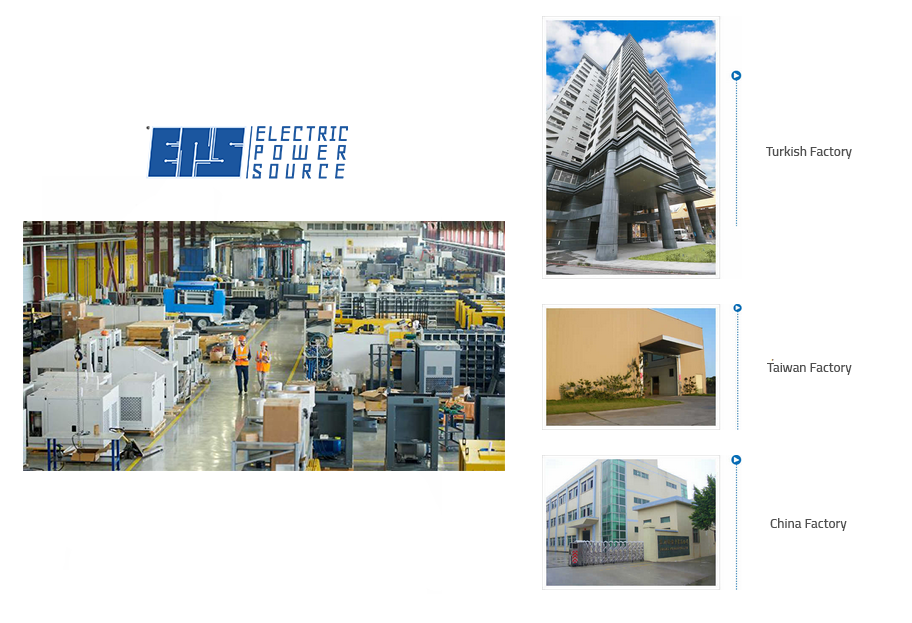 EPS Power is one of Turkish leading manufacturer of power supply and energy solutions for the industrial, resident and commercial sectors.
EPS Power is an enterprise jointly invested by the U.S., Turkey , Taiwan and Mainland China with more than many years for manufacturing and trading experience. EPS Power has five business divisions:
EPS Power UPS
EPS Power Inverter
EPS Power Solar
EPS Power Batteries
EPS Power IT Power Solution
Since the company's foundation in 1998, our product line has grown steadily in response to technical advances and market needs. Today, it encompasses Uninterruptible Power Supply (UPS), Emergency Power Supply (EPS), dc to ac Inverter, Photovoltaic Solar Panels, Solar Charge Controller, Solar Street Light, Storage Batteries, Solar Power System and more.
Diverse customer sectors
These products have been supplied to most government departments, commercial and industrial companies throughout worldwide by EPS Power. They have been used to supply and protect applications as diverse as computer networks, newspaper presses, manufacturing machines, stadium lighting, airfield lighting, commercial and defense aircraft, motors, medical equipment, telecom, anodizing plants and rotary and static frequency loads.
A growing international reputation
EPS Power reputation for robust, long life, quality equipment is well established in worldwide where many products are still in operation after more than 20 years of service. In recent years we have also earned international recognition in the form of multi-million dollar contracts to supply power protection equipment to harsh environments in the Peru, Ghana, Ecuador, Uzbekistan, Vietnam, Philippines, Indonesia, Thailand, Korea, Fiji, Georgia, Madagascar, Argentina……and more.
Ongoing research and development
That many EPS Power UPS power systems and solar power systems are still in operation after 20 years of service gives us no cause for complacency. We insist on staying ahead by investing over 10 percent of our total revenue in research and development. New technologies are constantly being examined to update and improve products and manufacturing techniques and we offer excellent facilities for design and development.
ISO 9001 and ISO 14001
Quality Assurance, Safety and Environment practices are intrinsic to EPS Power. We have been certified to ISO 9001:2008 standards in our manufacturing processes and overall company operation since 1999. We are currently in the process of certification to ISO 14001 standards and expect to be certified in 2003. Our aim is to achieve the highest level of product quality, reliability and safety, but we also know that this must be achieved at the lowest practicable cost.
Through the integration and optimization of resources, EPS Power focuses on the strategic planning of Quality, Structure, Marketing, Fashion and Innovation. Upholding the principle of "Customer and Credibility First", we believe that optimization of efficient quality is the prerequisite of our ultimate goal of customer satisfaction. We invite all our customers to support us and work closely together to achieve mutual benefit. Sincerely hope we can be of service to you in the near future! For inquiries, you can send us an e-mail at [email protected]